Have you browsed through our products from t-shirts, to polo t-shirts and did not find any model that suits your requirements such as colour combinations to represent your organization? Custom made-to-order apparels may be the service you need to create your very unique design to represent your organization. With Monsterprints, you can now create a unique t-shirt or polo t-shirt customized to your own design preferences and colour combinations.
Custom Made Items
T-shirts with custom panels. 

Oversize t-shirt with custom sizing.

Polo T-shirts, custom panels, collar and cuffs.

Singlets with custom panels and tipping.
1. T-shirt Material choices
There are 2 main categories available for customization, mainly cotton or polyester based. Polyester based materials are lightweight and quick dry, suitable for use outdoors or heavy usage. Cotton based materials are softer and comfortable, suitable for casual wear and more professional settings.
2. Customized Sizing
2a. Generic Male & Female fit
For all custom made orders, we are able to do in both female and male cuts. For female shirt sizing, the sleeves and shirt length are generally shorter, accompanied with slight tapered waistlines. 
2b. Oversize t-shirt fit
With the emergence of the hallyu wave with kpop and korean fashion, oversized t-shirts fits have seen a surge in popularity. You may wish to customize a specific cut or use our already set oversize fit size chart available. 
3. Collar and Sleeve Cuffs 
Collar and sleeve tipping designs on polo t-shirts were popularized by brands such as Fred Perry mixing and matching different colour combinations to create a wide variety of choices. Tommy Hilfiger also used tipping designs on their polo t-shirts with their signature red/white/dark blue colour palette. 
Tipping colours can be customized to your liking to match your company's branding profile colours. 
4. Button Placket (Inner & Outer)
It is the opening between the sides of the collar where the button is located. Customizing the placket of the polo t-shirt by selecting another colour to create contrast between the polo t-shirt's placket and the whole panel of the shirt. 
Choose from solid colours, or mix it up further with customized designs using dye sublimation printing.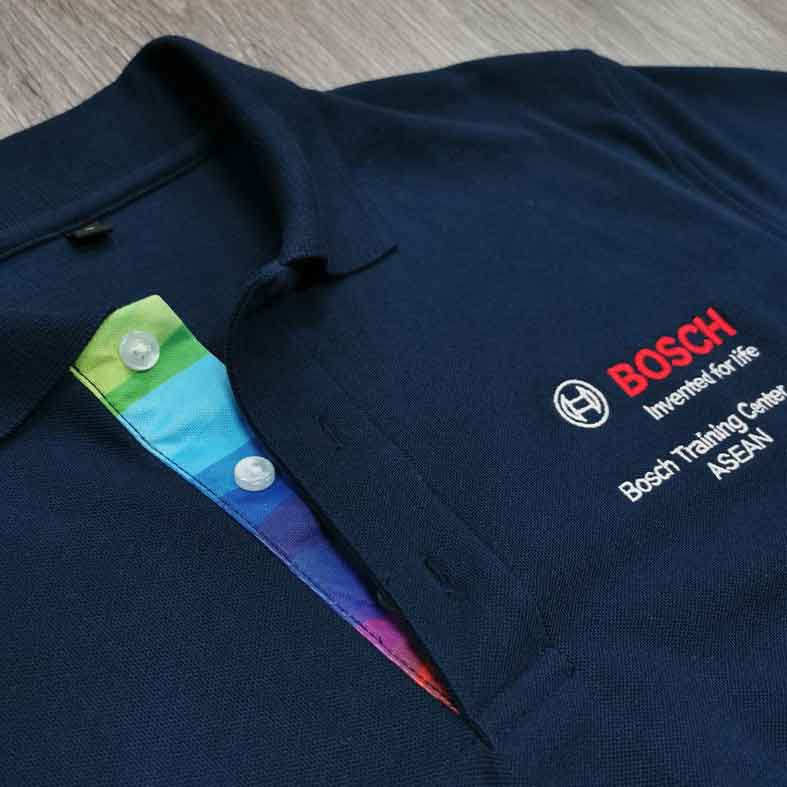 5. Overall T-shirt & Sleeve Panel
Additional panel designs on your t-shirts to create unique features. Extra panel shapes can be added along the sides of the t-shirt with contrasting colours to match your organization's brand colours. 
Designs shown below can be customized with your desired brand colours.
6. Bottom Hem 
The bottom hem of the t-shirt or polo t-shirt can also be customized to add contrast colours to match the overall colour theme of the design or logo.
Production Of Custom Made Items
The production of custom made-to-order items will require a longer production time of up to 4weeks depending on the design requirements and quantity of the order. The minimum order quantity (MOQ) for custom made items is 50 pieces. Prices of custom made items will vary based on the design requirements and the quantity of the order.