Heat Transfer T Shirt Printing Services
Heat transfer printing technology has evolved and improved over the years! With the latest heat transfer printing tech for t-shirt printing, gone are the days of poor durability and peeling headaches! Heat transfer printing is suitable for designs with complex mix of multiple colours!
Heat Transfer T-Shirt Printing Services
Heat transfer printing, or more commonly known as iron-on or digital printing is done by using a heat transfer medium such as printable heat transfer paper or various types of vinyl rubber type material. Images and designs are being printed onto the various products, such as t-shirts and tote bags using a machine known as a heat press machine which is, in fact, a large ironing machine that presses the heat transfer medium with pressure. 
Most recently, newer print technology and improvements have emerged. The latest heat transfer printing technology is also known as direct to film printing (DTF), boasting higher durability, flexibility, quality, and a softer touch. A fusion of DTG and heat tranfer printing seeking to make obselete print methods such as DTG, Silkscreen printing, and traditional vinyl heat transfer printing.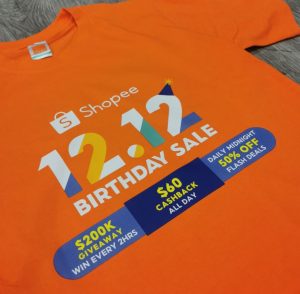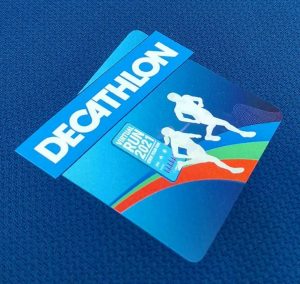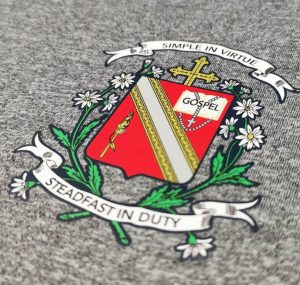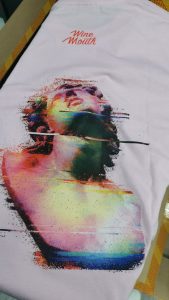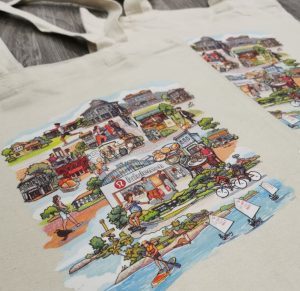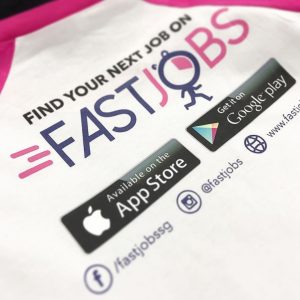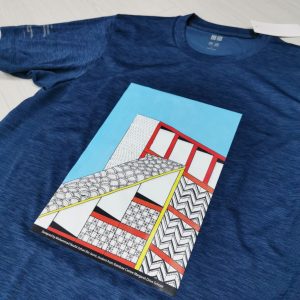 Direct to Film Printing DTF (NEW)
The Pros
It works on almost all types of fabrics unlike DTG printing (only cotton) 

Simple workflow without much mess

More durable compared to DTG printing 

Print finish feels soft and comfortable

Great for designs with multiple colours

Able to recreate minute details based on the artwork
The Cons
Costs are still higher compared to Silkscreen printing in mass quantities.

Print finish is still not as seamless as compared to Sublimation or DTG printing

May not be able to recreate fading print effects accurately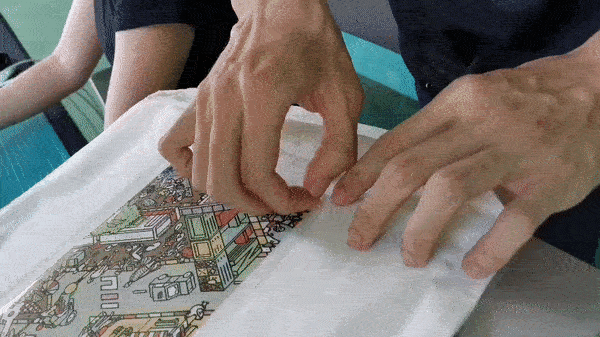 DTF Heat transfer printing in action!
The above gif shows the peeling of the PET film after heat pressing the design onto a totebag.
Click here to find out more about the full process of DTF heat transfer printing
Heat transfer Vinyl Printing (Traditional)
The Pros
Heat transfer printing is clean and environmentally safe, which makes it appealing in today's health and safety conscious work environments
Use of specially formulated inks, and advances in graphics and software packages give the operators' greater control and flexibility
Can use several colors, as long as they do not overlap
Photograph images are achievable onto t shirts
They can be inexpensive for small runs of t shirt printing
The Cons
Expensive on large quantities of t shirts
Cannot layer colors because the t shirt will become bulky and heavy
The print does not last as long as silkscreen printing
They do not look as professional as a silk screen printed t shirt
You can print only on light colored t shirts
The print is stiff and not as precise
The print does not breathe well and may provoke sweating
Cannot iron the print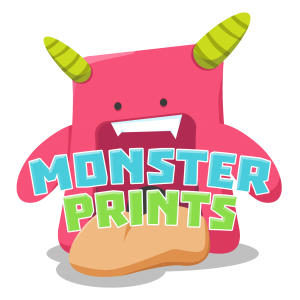 Live Heat Transfer Printing at your event
Did you know that heat transfer printing can be brought to your event!? Without you ordering t-shirts to be printed beforehand, we can wrap our whole production line and send it right to your event's doorstep! Personally interact with the screen printing process on-site to create unique pieces of wearable art. Appearing at thousands of events around the globe, live heat transfer printing is always the center of interest & fun. Enjoy the world's premier live screen printing experience.
Bold & outstanding

Sharp detailing

Durable life span

Flexible design per piece

Cost-efficient in lower quantities

Suitable for most usage,  events, corporate, school t shirts, class/cca t shirts etc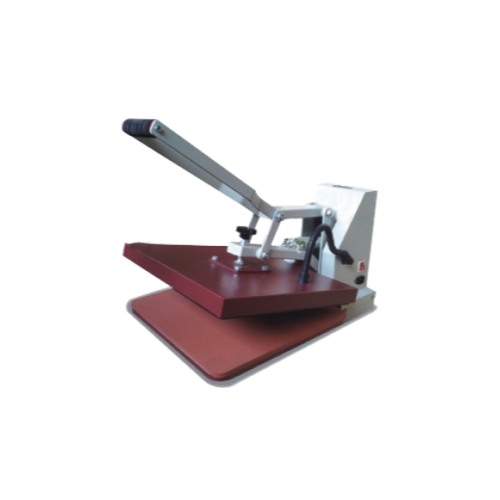 Why Heat Press T-Shirt Printing?
Heat transfer is a process of printing t-shirts in which the printed design is transferred from a special paper or vinyl onto the t-shirt through heat and pressure. Hence this process, the artwork is die cut on coloured vinyl or printed with speciality ink on speciality paper and then transferred to a garment by applying heat with a heat press. Heat-applied materials contain a heat-sensitive adhesive on one side and when heat is applied by a heat press to the material, the material adheres to the substrate to which it is being applied. Transfer printing is rapidly gaining importance in the textile and t-shirt printing industry. For example, process lets you print full-colour images on garments. Of course, advancements in heat transfer technologies have made this process better and it is also easier to make this type of printing on garments and t-shirts, but this is a time-consuming process, usually taking about three minutes to print a t-shirt.
There are different types and sources of transfers. Generally, a transfer is made up of vinyl & carrier paper and inks. When heat and pressure are applied to this paper the inks are transferred to the substrate you wish to print on to. Some transfers are topical, the image is applied to the surface of the substrate, and some other transfers are absorbed into the fibres of the t-shirt and they are called sublimation transfers.
Types of Heat Transfer Printing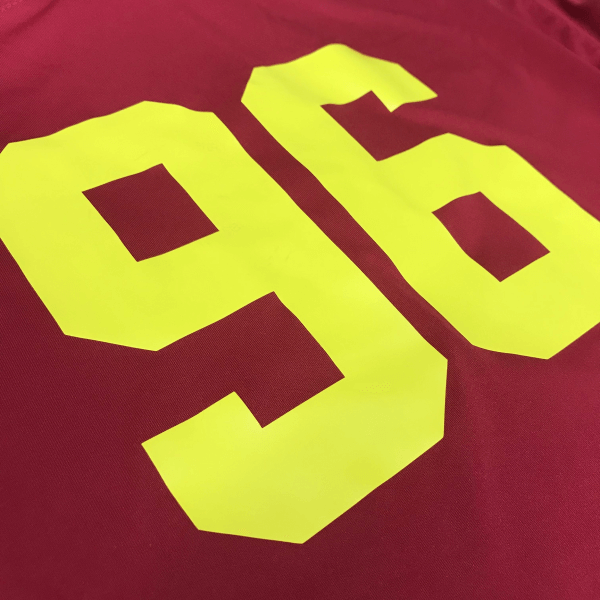 PU Vinyl Heat Transfer Printing
Most commonly used for heat transfer are PU vinyls. to print customized names and numbers for products such as t-shirts. This is the preferred way to print your customized team jersey t-shirts, class t-shirts and group t-shirts where individual t-shirt customization is required.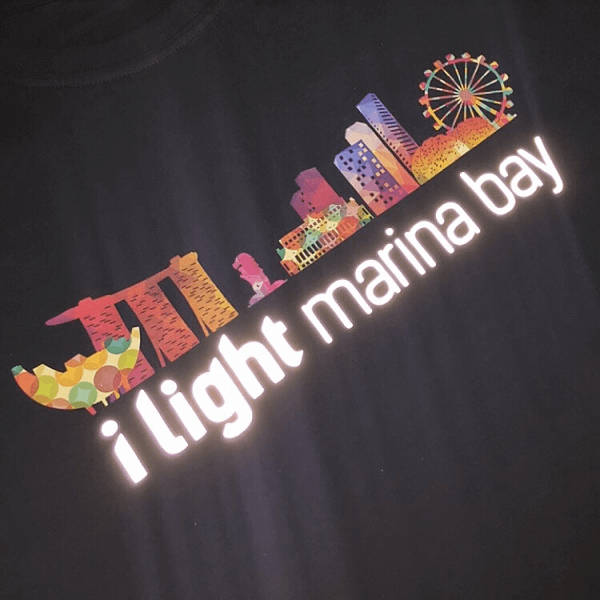 Reflective Vinyl Heat Transfer Printing
Commonly found on certain sportswear apparel and gear and construction safety vests & uniforms. Reflective heat transfer vinyl printing can be done on not only t-shirts, but also other gifts such as tote bags and drawstring bags. Reflective heat transfer vinyl printing is perfect for runners, cyclists, those involved in construction, the safety industry or when making costumes for children that need to be seen in low-light situations
Direct to Film Printing (DTF)
Direct to film printing commonly termed as DTF printing is a new alternative printing method for direct to garment printing (known as DTG printing). DTF printing can also be seen as a fusion of DTG printing, and regular vinyl heat transfer printing.
This new form of Heat transfer printing is suitable for recreating extremely detailed artworks with multiple colours. boasting higher durability, flexibility, and quality.
IDEATION
Do you have a design concept for your T shirt? Let us materialize your ideas onto T shirts, call us now or leave a message via email, or any of our social media!
BRAINSTORM
Let us generate more ideas and solutions to create your ideal T-shirt. we can even assist you with editing if you need any help! We are able to help you with design and imaging assistance.
PRINT
This is where our team work their magic, transforming basic T shirts into high quality & professional works of art!
DELIVER
Voila! Your dream t-shirt is complete! Enjoy free delivery anywhere in Singapore for orders over 200pcs! Be sure to hit a like on our social media if you like the shirts!
Get your custom print today!