Direct to Garment Printing (DTG)
Introduced in 2004, this printing method is relatively new compared to rest.
The idea of Direct to Garment Printing (DTG) is somewhat similar to printing a regular sheet of paper. But instead, a T-shirt will be loaded for printing instead of paper. The DTG printer is like a more sophisticated version of your regular home or office inject printer as they function in the same way.
Unlike the other printing techniques which app a layer of ink or vinyl on top of the T-shirt fabric, DTG injects the ink pigments into the fibres of the t-shirt fabric. It is also easier to set up compared to techniques like Silkscreen or vinyl cut printing, as there are fewer steps involved. However, one downside is that DTG printers are expensive, as the technology has been around for barely ten years, and therefore limited development and accessibility to everyone.
Supplies required for DTG printing are the water based ink, software, pre-treatment equipment and of course the printer.
Pre-treatment can either be done automatically by the printer or manually. Either way, a pretreatment solution will be sprayed onto the t shirt to allow for printing and washability of white ink or full coloured fabrics, most commonly black shirts. The concept similar to how a wall is primed with primer before painting, to allow the colours to stay on it and not soak in. It allows the white ink based to be printed to sit on top of the shirt. Without the use of the solution, the white ink will soak into the shirt, becoming more of a grey and rough surface. Being the foundation of your garment print, a proper application will help you to get better and beautiful result for your prints!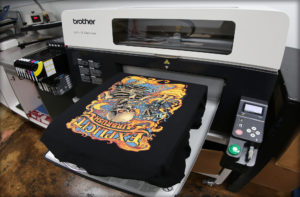 Process of DTG printing:
Pre-treatment:

Spray print area of shirt with pre-treatment solution and brush the solution into the fibres of the garment, using smooth even strokes.

Drying the solution:

For drying of the solution, you can either hang the T-shirt and wait or simply place it onto a heat press machine for a few seconds for it to be fully dry before printing.

Prepare design:

Artwork will be prepared in a special program. Do keep in mind the colour of the T-shirt. If the fabric is dark coloured, an extra layer of white ink should be added to allow for vibrant prints.

Load to DTG printer:

To have the best looking results, ensure that T-shirt is loaded carefully, flat and with no wrinkles.

Print!

Hit the print button and your shirt will be printed just like a regular sheet of paper!