Gildan76000 T-shirt REVIEW
Gildan 76000 Premium Cotton t-shirt, is probably one of the most well known product model among regular customers of t-shirts & brand starters. With an extensive range of colour choices available, you are sure to find a tone that suits your taste! However colour is not the only factor that determines our rating of this t-shirt model. We have broken down 3 simple factors to rate our t-shirt products;
TOUCH
The feel of the shirt either being soft or stiff. This is a very subjective point of preference as not everyone likes their t-shirt soft, some customers prefer stiffer shirts that do not have the tendency to be too "skin fit". 
COLOUR OPTIONS
Definitely an important factor of importance for customers and users to find their suitable colour tone to match not only their design, but also corporate colours if the intent of the shirt is to be used as a company t-shirt or uniform.
PRICE
A factor we can't avoid. As much as we love to have the best quality of t-shirts for our orders. Customers will always have to find a balance between price and the quality of the product, we as the supplier monsterprints, will provide as much knowledge and advice as we can to help you in your decision making process.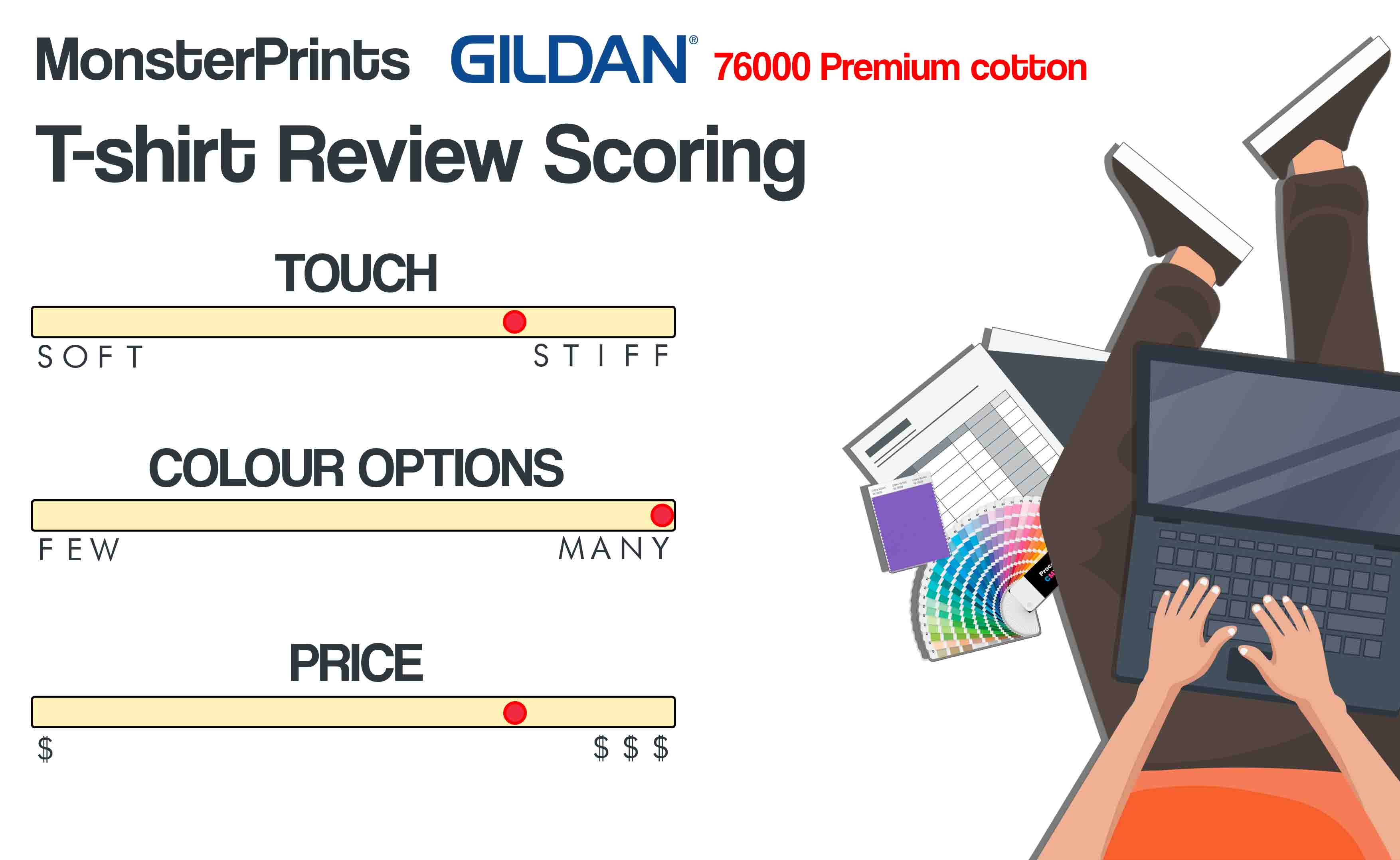 VERDICT
– Leaning more towards the stiffer side of textures & feel. The Gildan76000 t-shirts tend to have a longer lifespan in terms of shape retention and being less prone to having wrinkles on cuffs & collars.
– Boasting the widest range of colours, the Gildan76000 t-shirt receives the max score for its colour options.
– A slightly higher priced product at 180gsm witha wide variety of colours is a reasonable and not overpriced.
Making your final decision may be hard, do not hesitate to contact us if you have any further questions on the various of options of poducts and print methods.