Factors that contribute to the pricing of t-shirt printing
1. Type of shirt.
whether you require roundneck t-shirt, polo t-shirt, or even mandarin collared t-shirt, price will definitely be different. Generally basic roundneck t-shirts will be the most cost efficient. Therefore, if there isn't really a need, stick to the basics. sometimes, simple and clean is smarter than complexity!
2. Material & Quality
Prices will vary due to the material of the shirt chosen, there may not be much difference between cotton t-shirts and dri fit microfibre t-shirts. but there will definitely be a difference when it comes to the different grades of each material.
for example: a basic cotton t-shirt at 160gsm will be the cheapest, 180gsm cotton t-shirts will cost 10-20cents/pc, for branded cotton material such as Gildan Premium cotton t-shirt range, price cost an additional of $1+ depending on your finalized quantity.
for dri fit mircofibre t-shirts, there are three main different types to choose from. The standard eyelet dri fit microfibre, the cooltech dri fit, and interlock dri fit being the most expensive.
3. Number of Colours to Print
More colours will increase the complexity of the process in producing and printing the t-shirts, causing the cost and sometimes the time needed to produce the t-shirts to increase.
4. Order Quantity
With a larger bulk order, discounts and benefits can be given to both parties, the t-shirt printer and the customer! you get your t-shirts at a lower price, and we get to produce a lot of t-shirts at one go!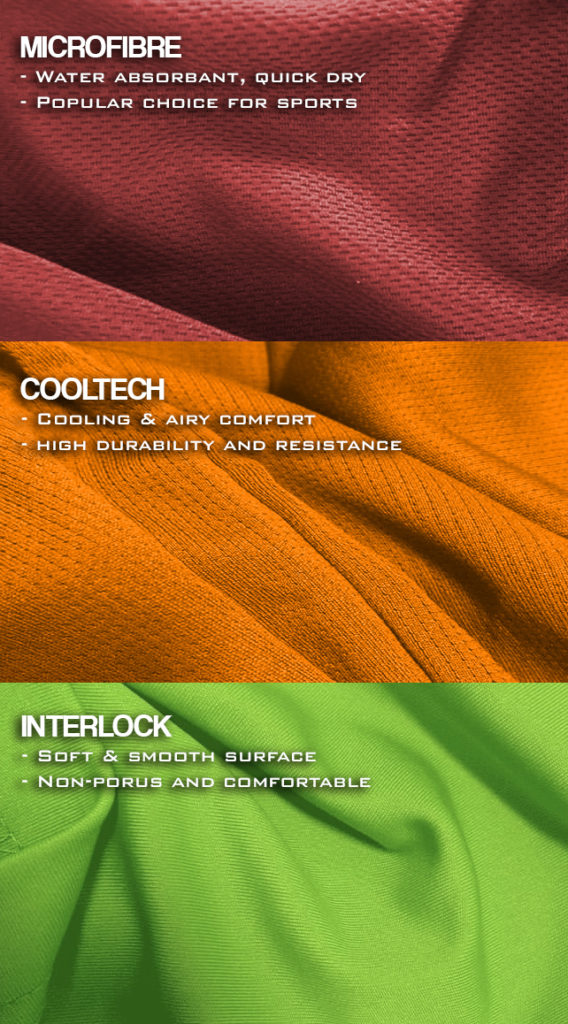 If you are still slightly confused, just try to remember these 3 simple tips
1. Keep your design simple, 1~2 colour designs will still look great!
2. Get friends and other groups to order together for a larger quantity order = better price
3. Choose the right material for your needs, if you do not require higher end materials, the basic ones will do it's job!
We strive to make your ideas come true onto your preferred apparel or t shirt, making the process as stress free as possible while providing unparalleled attention to detail like no other, as we too care about how your product will turn out.