The oversized trend is the hottest thing right now. Especially more than ever with the rise of kpop brought more eyes on korean fashion using various kinds of outfit in oversized apparel, oversized t-shirts, crop tops, hoodies and other fleeced clothing. Many fashion brands have also picked up on the trend and started releasing their apparels in oversized cuts for their t-shirts and hoodies.
Modern streetwear origins 
The streetwear style: born out of the hip-hop culture from the 70s and early 80s, from New York city hip-hop with elements of Los Angeles' surf culture, with influences from japanese street fashion in chase of the punk aesthetic. In the late 80s, surfboard designer Shawn Stussy started selling t-shirts with the same trademark on his surfboards gaining immense popularity. He then shifted the brand towards exclusive sales creating a product scarcity, the birth of modern definition of streetwear culture was born; t-shirts and exclusivity.
Early 1990s record labels with hip-hop artists began selling branded merchandise on letterman jackets and workwear jackets with embroidery printing techniques. Popular sports franchises also had early influences with the production of caps, jackets, oversized t-shirts and jerseys for basketball teams. 
Rise of the "bling" culture came during the 2000s. Luxury brands started to move into the market with the likes of Burberry, Gucci and Fendi featured in hip-hop videos and films. This was also the time of the Nike Air Force 1, immortalized in the song by Nelly – "Air Force Ones". Companies started to adopt the idea of limited edition capsule collections now famously known as "drops" with social media and product scarcity as marketing tools, the desire to own such products skyrocketed.
2010s, streetwear brands are now compared to luxury brands. Complex magazine, a new york based media platform for youth culture named Stussy, SUPREME and A Bathing Ape as top streetwear brands. Streetwear brands started to have collaborations with luxury brands to create high fashion drops. Supreme x Louis Vuitton, Fila x Fendi, A Bathing Ape x Commes des Garcons, and Stussy x Dior. 
MonsterPrints oversized t-shirts
We just launched our new oversized t-shirt range for your own customisation needs. If you are looking print some oversized t-shirt for your own t-shirt brand, we've got you covered. Current minimum order quantity for oversized t-shirts are 30pcs, price varies based on your required design.
We have chosen to use 100% TCCotton of around 180gsm. Soft comfortable feel but not too soft where the shirt looks frail flimsy. The exact cut we've chosen to tailor made our oversized t-shirts are of good fit for the asian body type seeking for the oversized look.
See more options of cotton t-shirts here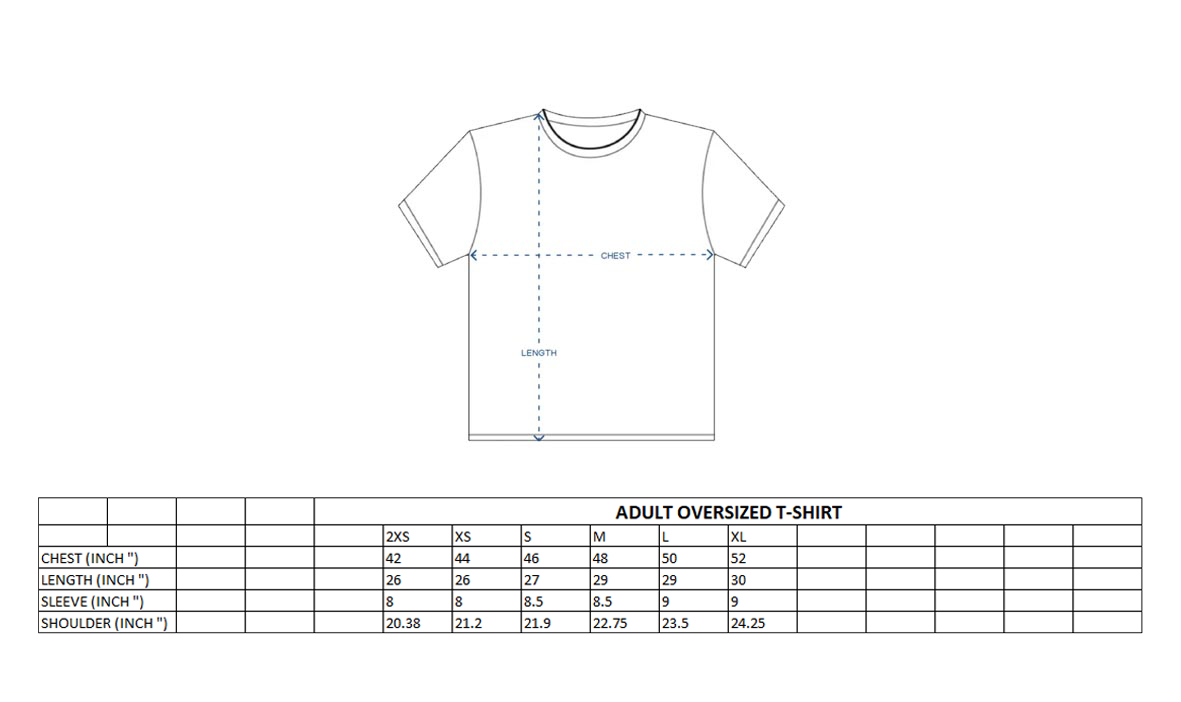 MonsterPrint's very own oversized t-shirt sizing is customized to fit the regular asian body. We've drawn inspiration from international brands such as balenciaga, uniqlo and more! We've discovered Singaporeans' love for the uniqlo oversized t-shirt and IMPROVED on it. Gathering feedback from our customers and friends, we've adjusted the sizing from uniqlo's ever popular oversized t-shirt.
We reduced the sleeve length just slightly, and lengthen the shirt's length by approx 2inches as many found uniqlo's fit to be too short.
On top of our custom made sizing, we're excited to add a new colour to the selection. The ever so popular SAND colour! popularized by GILDAN with their regular Gildan76000 round neck t-shirts.
Let us know what colour should we produce next!
Printing techniques for oversized t-shirts
Silkscreen printing for oversized t-shirts to achieve durable and vibrant designs. This oversized T-shirt printing technique is common for retail-ready merchandise.
Heat transfer prints on oversized t-shirts are especially popular with large and over-the-top designs.

 

Embroidery on oversized t-shirts with simple logos or text is another popular design choice for many streetwear brands.
How to style with oversized t-shirts for him
Ensure the t-shirt is made to be oversized t-shirts. Getting regular t-shirts and upsizing them to replicate an oversized look would not work, you'll end up with a t-shirt that is narrow and too long in length. Oversized t-shirts are wide, square with lengthened sleeves.

Pair your oversized t-shirts with skinnier pants to contrast your choice of style. This will make your oversized t-shirt choice intentional instead of the wrong choice of size. Most popular pairing with the oversized t-shirt would definitely be jogger style pants.



Not only does oversized t-shirts go well with skinner pants, a full on baggy outfit works well too. A style that are popular with hip-hop dancers and b-boys, giving room for a range of movement for their craft.

Athleisure is the vibe you want to pull off with your oversized t-shirts. Inspired by old school oversized basketball jerseys in the 90s, a pair of sneakers would go great with your oversized t-shirts instead of your fancy wing tip or loafers.

Tired of the laid back vibe? Pair it with formal pants, made popular by korean fashion trend, dubbed the "korean oppa" look. The look usually comprised of an oversized t-shirt, some tapered pants finishing with a comfortable sneaker shoe.

Top the look off with a denim jacket to elevate the look from a casual chill day out to a full composed look. Keep yourself warm in cold weather while looking all ready for a great night out.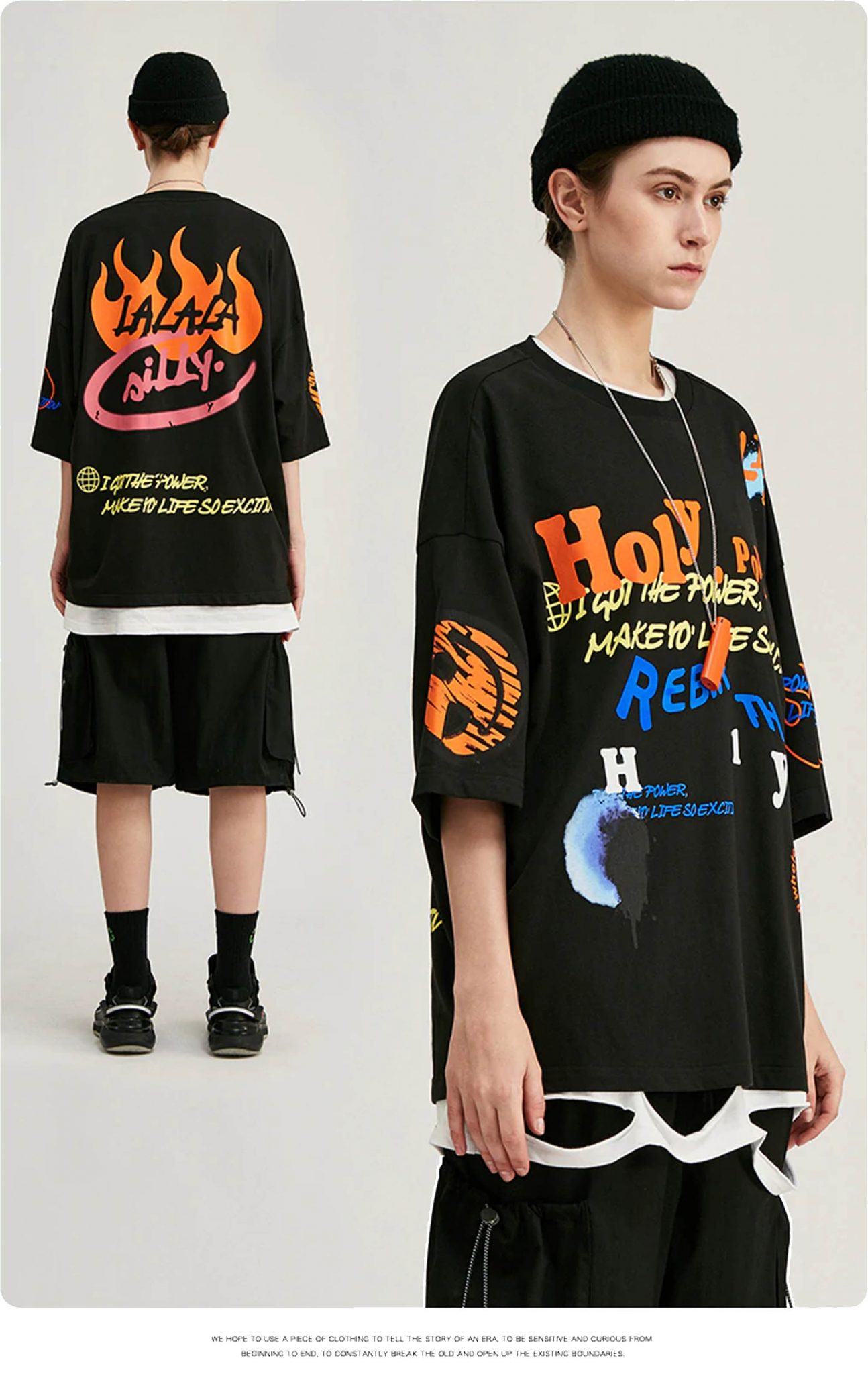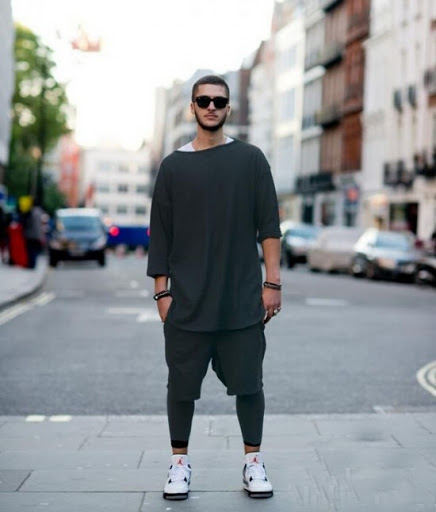 How to style with oversized t-shirts for her
Pair it with a denim short for a summer look, keeping it comfortable and casual. Oversized shirts with hawaiian styled prints are very popular with a straw hat to complete the summer look.

Show off the straps of your bralettes with an oversized v-neck t-shirt comfortable and alluring look.

Create balance to your look, oversized t-shirt with high knee boots creating a chic look that is not too over the top. You don't have to have a super model figure to pull off this look, combined with "skip" the bottoms with an extra short shorts to make your legs look even longer.

Similarly to how oversized t-shirts are commonly paired to joggers, some athletic tights would do the trick. These

leggings double up as your athleisure staple and trusty yoga tights when you're hitting the studio.