In our recent months, we have seen an increase in demand for reflective prints on not only t-shirts, but also on other items such as hoodies and even totebags and drawstring bags. 
Reflective printing can be done via 2 print methods, silkscreen printing and heat transfer printing. Here at monsterprints, we specialize in heat transfer printing specifically for reflective prints.
HOW REFLECTIVE PRINTS WORK
A common misunderstanding for such prints are that they glow in the dark, in fact they do not glow on their own. Reflective prints require another light source to reflect the light. A good example would be a stop sign on the street, without any cars they don't lit up at night, but shines bright as a headlight when another headlight was pointed at it.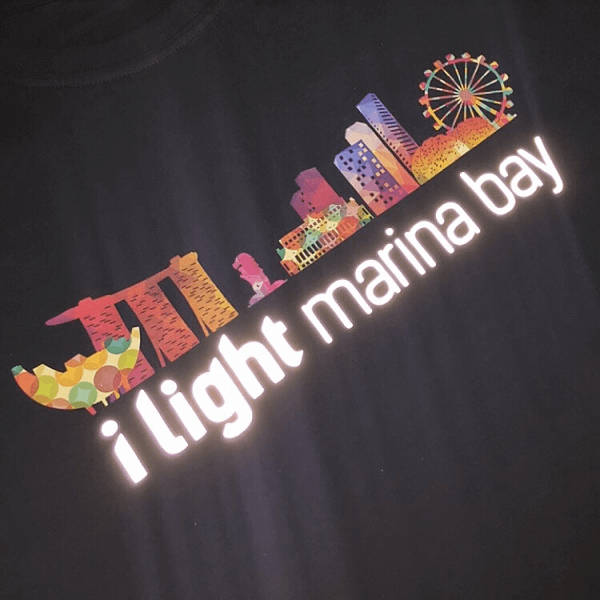 COMMON USES FOR REFLECTIVE PRINT
Very commonly seen used on construction work wear and vests for workers who work in high risk areas where visibility of each personnel is extremely important to upkeep the safety of the construction area. 
Reflective prints are also commonly found on drifit t-shirts apparels. sportswear and equipments such as training t-shirts, shoes, bicycles and even boats. This allows the users to be visible to others in the dark at night, reflecting light from other vehicles and allowing road users to avoid bikers in the night. 
A growing demand and trend in fashion. In the wake of the enthusiasm for work clothes, reflective fabrics and prints found a response in the hearts of fashion designers. The first on this field was Alexander McQueen, who in 2004 showed on the podium in futuristic sets with luminous ribbons – such clothes would have been envied by the characters of Ridley Scott's Blade Runner movie.